Your right to privacy and data security is our primary concern. That is why, when you visit ancasterwireless.ca, we help you maintain control over your personal data on the Internet. The guidelines below have been developed to protect the information you provide us during a visit to our website, ancasterwireless.ca.
Policies, Procedures, Agreements, and Terms of Service
AncasterWireless.ca's policies have been created with the understanding that Internet technologies are still evolving and that Internet business methods are continuing to evolve to meet the needs and opportunities of the changing technologies. As a result, AncasterWireless.ca's policies, agreements, and terms of service are subject to change.
Use of the services provided by Ancaster Wireless DBA AncasterWireless.ca constitutes your agreement and acceptance of all and any policies, agreements, and terms of service and any other supplemental policies.
Privacy Policy
Our Privacy Policy is intended to describe to you how and what data we collect, and how and why we use your personal data. It also describes options we provide for you to access, update or otherwise take control of your personal data that we process.
What Information We Collect
We collect a variety of information from you so that we can provide the best possible experience when you utilize our Services.
Registering for a new account 
Placing an online order
Providing feedback in an online survey
Complete contact forms
Participating in promotional offer or contest
Subscribing to a newsletter or a mailing list
Requesting online support 
Applying for a job
The types of data we collect directly from you include:
Name, address, telephone number and email address
Log-in credentials, if you register a User Account with us
Transaction Information – – billing information, credit card number, government identification
Information you provide in connection with career services, for example, salary information, job placement information, career goals, work experience, and other information
Account related information – – account number, purchases, renewal, expiration dates, notes/details request, maintenance interactions
However, we also collect additional information when delivering our Services to you to ensure necessary and optimal performance.  These methods of collection may not be as obvious to you, so we wanted to highlight and explain below a bit more about what these might be (as they vary from time to time) and how they work:
Cookies and similar technologies on our website
This helps us track your browsing behavior, links clicked, items purchased, your device type, and collect various data, including analytics, about how you use and interact with our Services. This also allows us to provide you with more relevant product offerings, a better experience on  AncasterWireless.ca, and to collect, analyze and improve the performance of our Services. We may also collect your location (IP address) so that we can personalize our Services.
Data about Usage of Services
This information is automatically collected when you use and interact with our Services, including metadata, log files, cookie/device IDs, and location information. This information includes specific data about your interactions with the features, content, and links (including those of third-parties, such as social media plugins) contained within the Services, Internet Protocol (IP) address, browser type and settings, the date and time the Services were used, information about browser configuration and plugins, language preferences, information about devices accessing the Services, including the type of device, what operating system is used, device settings, unique device identifiers, and error data.
How We Use the Information We Collect
We use the information you submit for various purposes depending on the types of information we have collected from and about you and the specific services you use, in order to:
Send you information in connection with your Services
Respond to your communications and requests
Provide additional services to you, such as services that you request in conjunction with your current services
Contact you by email, postal mail, or phone (including via SMS messages) regarding Ancaster Wireless's and third-party products, services, surveys, research studies, promotions, special events and other subjects that we think may be of interest to you
Help us better understand your interests and needs, and improve the Services your receiving
Sharing with Trusted Third Parties
We may share your personal data with affiliated companies within our corporate family, with third parties with which we have partnered to allow you to integrate their services into our own Services, and with trusted third-party service providers as necessary for them to perform services on our behalf, such as:
Processing credit card payments
Serving advertisements
Conducting contests or surveys
Performing analysis of our Services and customers demographics
Communicating with you, such as by way email or survey delivery
Customer relationship management
We only share your personal data as necessary for any third party to provide the services as requested or as needed on our behalf. These third parties (and any subcontractors) are subject to strict data processing terms and conditions and are prohibited from utilizing, sharing, or retaining your personal data for any purpose other than as they have been specifically contracted for (or without your consent).
Communicating with You
We may contact you directly or through a third-party service provider regarding products or services you have signed up or purchased from us, such as necessary to deliver transactional or service-related communications. We may also contact you with offers for additional services we think you'll find valuable if you give us consent, or where allowed based upon legitimate interests. You don't need to provide consent as a condition to purchase our goods or services. These contacts may include:
Email
Telephone calls
Automated phone calls
If you make use of a service that allows you to import contacts (ex. using email marketing services to send emails on your behalf), we will only use the contacts and any other personal information for the requested service. If you believe that anyone has provided us with your personal information and you would like to request that it be removed from our database, please contact us at support@ancasterwireless.ca.
Compliance with legal, regulatory and law enforcement requests
Ancasterwireless.ca reserves the right to, and will fully cooperate with law enforcement authorities and will openly and willfully provide any information requested in writing by law enforcement authorities. We will also share your information to the extent necessary to comply with ICANN or any ccTLD rules, regulations, and policies when you register a domain name with us.
Website analytics
We use Google Analytics web analytics tools and server-based analytic tools to collect information about how you interact with our website, including what pages you visit, what site you visited prior to visiting our website, how much time you spend on each page, what operating system and web browser you use and network and IP information. We use the information provided by these tools to improve our Services.
Third-party websites
Our website contains links to third-party websites. We are not responsible for the privacy practices or the content of third-party sites.  Please read the privacy policy of any website you visit.
How you can access, update or delete your data
To easily access, view, update, delete or port your personal data (where available), or to update your subscription preferences, please sign into your Account and visit "Edit Account Details."
If you make a request to delete your personal data and that data is necessary for the products or services you have purchased, the request will be honored only to the extent it is no longer necessary for any Services purchased or required for our legitimate business purposes or legal or contractual record keeping requirements.
If you are unable for any reason to access your Account Settings, you may also contact us by one of the methods described in the "Contact Us" section below.  To protect your privacy and security, we will take reasonable steps to verify your identity before granting access or making corrections. We use this procedure to better safeguard your information.
How we secure, store and retain your data
We consider the confidentiality and security of your information to be of the utmost importance.  To prevent unauthorized access, maintain data accuracy, and ensure the correct use of information, we have put in place appropriate physical, electronic, and managerial procedures to safeguard and secure the information we collect online.
International Users
If you utilize our Services from a country other than the country where our servers are located, your communications with us may result in transferring your personal data across international borders. Also, when you call us or initiate a chat, we may provide you with support from outside your country of origin.
As described above, AncasterWireless.ca may subcontract the processing of your data to, or otherwise share your data with, service providers and others in countries other than your country of residence. If we provide any information about you to any such non-European Union entities, we will take appropriate measures to ensure such companies protect your information adequately in accordance with this Privacy Policy. If applicable, you may make a complaint to the data protection supervisory authority in the country where you are based.
Age restrictions
AncasterWireless.ca services are available for purchase only for those over the age of 18.  Our Services are not targeted to, intended to be consumed by, or designed to entice individuals under the age of 18. If you know of or have reason to believe anyone under the age of 18 has provided us with any personal data, please contact us.
Changes to Our Privacy Policy
Please note that we review our privacy policy from time to time and that these practices are subject to change. Any change, update, or modification will be effective immediately upon posting on our Website. You can know if the Privacy Policy has changed by checking the "Last Updated Date" at the bottom of the document.  By continuing to use our Services, you are confirming that you have read and understood the latest version of this Privacy Policy.
Billing & Account Cancellation Policy
This section will cover everything you will need to know about our billing and account cancellation policies.
Billing
Generally, your billing period starts on the 1st or 15th of each month. For each successive period, your contract is renewed automatically until we receive a completed account cancellation form. Your billing period is determined by the billing option you chose at the time of ordering. Your billing period also applies to any additional items and services ordered after the initial activation of your account. Fee(s) for such items and services will be prorated so that the start date matches that of the first service purchased.
You are obligated to pay for your account even if you do not use it because we have provided you with resources such as usernames, passwords, DNS entries, and an IP address; therefore you have the ability to use your account. The fact that you do not do so is not relevant – you are still obligated to pay for the account. Even an unused account uses valuable system resources that could be used for other customers.
Invoice(s) / Account Statements
AncasterWireless.ca generates and sends invoices automatically 15 days prior to the renewal date for monthly billing and 60 days prior to the renewal date for annual billing via e-mail to the e-mail address you provided when you signed up for your account. AncasterWireless.ca invoices exclusively via e-mail. We DO NOT send out invoices via postal mail or any other format.
Please check your invoice(s) and account statements without delay and advise us of any error(s) or omission(s) within 45 days of the invoice(s) or statement(s) date. Any issues brought to our attention past this 45 day window will be used as informational only and cannot be credited back to your account.
Payment
All payments are due prior to the beginning of the service period before service is rendered. All credit cards are billed automatically on your renewal date. If you wish to pay your account by a method other than credit card please ensure your payment is in our office before the DUE DATE on your invoice. For your convenience, we accept Visa / Mastercard / American Express / Money Orders and Interac Money Transfer.
Money Orders can be sent to the following address:
621 HWY 8, Box 100
Rockton, ON
L0R 1X0
Late Payments
Any account whose payment status is not current as of the start of the next billing period is deemed late. Generally, customers are given a 10 day grace period after which a late fee is added to the invoice. All past due accounts are subject to a 2% per month interest fee.
Suspensions
Generally, customers are given a 12 day grace period after which the account is put on suspension. We reserve the right to charge a reactivation fee of $20.00 per account as well as payment of the balance due in full before your account is reactivated. It may take up to 24 hours for service to re-activated and service to be restored.
Account Cancellation
AncasterWireless.ca generates and sends invoices automatically 15 days prior to the renewal date for monthly billing and 60 days prior to the renewal date for annual billing. Cancellations MUST be received prior to the generation of your next invoice to avoid any further charges.
If a client processes a credit card charge back / dispute (or put stop payment on a cheque) any credits or refunds owed to the client from Ancaster Wireless will be forfeited.
All account cancellation requests must be submitted via email to billing@ancasterwireless.ca. Account cancellations submitted via fax, phone, or e-mail (other than billing@ancasterwireless.ca) will not be accepted or considered valid regardless of what any staff member may imply. If you have a service that requires a copy of files (ie. Website hosting) please ensure that you have backed up your data before you submit the account cancellation request; any attempt to access your account after your account cancellation request date is considered use of the account and therefore will result in additional billing.
Upon completing a cancellation request, you will receive a confirmation e-mail for your records. This will ensure that both our customer service team and you (the customer) are on the same page and all account cancellation requests will be date and time-stamped to protect the customer should we be busy and not able to process your cancellation immediately. You MUST keep this e-mail as it is your proof that your account was cancelled.
We have developed this process to ensure that there are zero assumptions and all account cancellations are handled without any confusion.
Account Cancellation & Outstanding Account Balances
If you have a past-due balance on your account at the time the account is closed (either by your request or due to non-payment), the remaining balance must be paid when the account is closed.  If we do not receive payment on the remaining balance at that time, we will begin efforts to collect any fees owed.  A collection fee of 10% of the balance owing on your account or $75.00; which ever is greater will be added to your account prior to being sent to a 3rd party collections agency.  If our internal collection efforts fail, we reserve the right to turn the account over to a 3rd-party (either collections agency or attorney) for further action.  We also reserve the right to report your unpaid balance to credit reporting agencies.
30-Day Money Back Guarantee
All website hosting accounts come with a 30-day money back guarantee; should you be unhappy with your account for any reason and wish to cancel your website hosting account we will refund 100% of your regular monthly hosting fee(s). We do not refund domain name registration fees under any circumstances. The 30-day money back guarantee starts the day that account is signed up for and expires on the 30th day at midnight.
AncasterWireless.ca does not issue any refunds for any account over thirty (30) days old.
NO other services qualify for the 30-day money back guarantee.
Credits
In the event of downtime experienced as a result of something on AncasterWireless's end a credit can be applied to the client's account. A request for credit must be received via email to billing@ancasterwireless.ca. This credit request MUST be received within 10 days of service being restored. This credit request MUST contain the specifics of the incident: Ticket # issued when opening a Help Desk Ticket, Type of service seeking request for, Date service went down, Date service was restored and any other helpful details. Once credit is approved our billing team will add it to your account to be used on future invoices.
Failure to provide the required details will result in NO credit given.
Credit will not be given if the issue is a result of something on the client's end.
If a client processes a credit card charge back / dispute (or put stop payment on a cheque) any credits or refunds owed to the client from Ancaster Wireless will be forfeited.
Refunds
Setup fees, when applicable, are non-refundable.
Prepaid services are non-refundable.
When a customer is invoiced for yearly, biannually or quarterly services, a discount is applied to that invoice.  Our logic is that a client has made a commitment to us and has prepaid for a longer period of time.  A discount is offered as we will not spend any admin time chasing a client for payment on past due invoices.
Refunds WILL NOT be given for Failure to Cancel an account prior to your next invoice generation date.
Non-use of service is non-refundable.
If a client processes a credit card charge back / dispute (or put stop payment on a cheque) any credits or refunds owed to the client from Ancaster Wireless will be forfeited.
Credit Card Disputes
If client disputes justified charges by the provider on his credit card, AncasterWireless.ca has the right to charge a $50 administration fee and immediately discontinue service.
If a client processes a credit card charge back / dispute (or put stop payment on a cheque) any credits or refunds owed to the client from Ancaster Wireless will be forfeited.
Service Level Agreement (SLA)
Our service lever agreement talks about our uptime, performance guarantees, and restrictions.
Uptime Guarantee
AncasterWireless.ca endeavors to have the content of customer's website available for http access by third parties 99.9% of the time ("website availability"), in a given month, excluding the restrictions below. Website unavailability (downtime) exists when third parties are unable to transmit and receive http data and AncasterWireless.ca records such failure within its monitoring systems. Website unavailability (downtime) is measured from the time the trouble ticket is opened by a customer to the time the server is once again able to transmit and receive http data.
Should a customer's website become unavailable for a cumulative period up to one hour in any one calendar month, Customer may be eligible to receive a credit equivalent to one day of Customer's pro-rated recurring monthly fees for that month.
Customers may receive an additional refund of one day of the pro-rated recurring monthly fees for each additional hour, or portion thereof, of website unavailability. All credit calculations will be based on website unavailability in one-hour increments. The above agreement does not cover outages caused by equipment and/or events not under the direct control of AncasterWireless.ca or caused by individuals not directly employed by AncasterWireless.ca. This Service Level Agreement does not cover outages due to scheduled or emergency network and/or facility maintenance, which will be broadcast to all customers in advance.
Any and all credit(s) to a customers account will not exceed 50% of the customer's recurring monthly fees for the month in which the credit is issued.
Performance Guarantee
AncasterWireless.ca will maintain its network in such a manner as to provide to all customers the best possible performance to the Internet. In order to achieve this AncasterWireless.ca makes the following guarantees to all onsite Internet customers:
100% guaranteed uninterrupted transit to the Internet
Zero packet loss internal to AncasterWireless.ca network
AncasterWireless.ca internal network will have an average latency of not greater than 50ms (inter-city)
AncasterWireless.ca will deliver all Customer traffic to an Internet carrier with an average latency not greater than 150ms (inter-city)
In addition to the above performance guarantees AncasterWireless.ca will take all possible measures to ensure all Customer traffic reaches its destination in a timely fashion comparable and within reason to any other carrier in the area. These measures include the manipulation of routing tables so as to direct traffic to the Internet using its best possible upstream link.
Sites not conforming to our predefined Standard Operating Procedures are not eligible for our Performance guarantee.  Such sites include sites that have one part of their hosting done on our network and another portion of their hosting done on another companies network.
Credit Request Process
In order for a customer to receive a credit on their account, the customer must request such credit within ten (10) business days after the customer's service has been restored from an outage (downtime).  The customer must request credit by sending an e-mail to our billing department at billing@ancasterwireless.ca for each account the customer has with Ancaster Wireless.  The body of this message must contain the following: Site Name, Service Address, service that was affected and the dates and times of the start and finish of the service unavailability and the trouble ticket number associated with their service unavailability for identification.  Credit(s) will usually be applied within thirty (30) days of the customer credit request.  Credit(s) to customer account will be the customer's sole and exclusive remedy in the event of service unavailability (downtime).
Restrictions
In order for the customer to be eligible to receive credit(s), the customers account must be paid in full at the time of requesting credit(s) and at the time of website unavailability.
Credit(s) will not be provided to customer in the event that customer has website unavailability resulting from (i) scheduled maintenance as posted from time to time via e-mail bulletins and at AncasterWireless.ca, (ii) customer behavior including acts or omissions of customer, or any use or user of the service authorized by customer, or the performance or failure of customer's equipment, facilities or applications, or customer's ISP or connection to the internet, or (iii) circumstances beyond AncasterWireless.cas' reasonable control, including, without limitation, acts of God, acts of any governmental body, war, insurrection, sabotage, embargo, fire, flood, strike or other labor disturbance, interruption of or delay in transportation, unavailability of interruption or delay in telecommunications or third party services (including DNS propagation), failure of third party software or hardware or inability to obtain raw materials, supplies, or power used in or equipment needed for provision of customers' service.
Acceptable Usage Policy (AUP) & General Terms of Service
AncasterWireless.ca is dedicated to providing an all-round top quality service. The terms and conditions which follow are necessary to ensure that we may continue to provide the best possible service to all of our customers whilst at the same time satisfying our legal and ethical responsibilities.
Failure to follow any term or condition will be grounds for immediate account deactivation without notice. AncasterWireless.ca will be the sole arbiter as to what constitutes a violation of any of these provisions.
Activity which results in the suspension or deactivation of an account will result in a forfeiture of all fees paid. Complaints made regarding abuses of an account will be investigated and if found guilty will be grounds for immediate suspension.
To report suspected abuses or any violations of these policies, please contact abuse@ancasterwireless.ca
Usage
Customer agrees to use AncasterWireless.ca's services only for lawful purposes, in compliance with all applicable federal, provincial, state or government law. Specific activities that are prohibited include, but are not limited to:
Threatening harm to persons or property or otherwise harassing behavior.
Violating Canadian export control laws for software or technical information.
Misrepresenting or fraudulently representing products/services using Customer's account.
Transmission, distribution or storage of any material in violation of any applicable law or regulation.
Transmission, distribution or storage of any material protected by copyright, trademark, trade secret or other intellectual property right without proper authorization, and material that is obscene, defamatory, an invasion of privacy or constitutes an illegal threat, or is otherwise illegal.
Facilitating, aiding, or encouraging any of the above activities, whether using AncasterWireless.ca's network or service by itself or via a third party's network or service.
Interference with a third party's use of AncasterWireless.ca's network or service, or ability to connect to the Internet or provide services to Internet users.
AncasterWireless.ca will be the sole arbiter as to what constitutes a violation of this provision.
Adult Content
AncasterWireless.ca does not permit adult-oriented sites, pornography, and sex-related merchandising to be stored, loaded, or hosted in association with any accounts on our network. This includes sites that may infer sexual content or links to adult content elsewhere. This is also true for sites that promote any illegal activity or content that may be damaging to our servers or any other server on the Internet. Links to such materials are also prohibited.
System and Network Security
Customer is prohibited from utilizing AncasterWireless.ca services to compromise the security or tamper with system resources or accounts on computers at the Premises or at any third-party site.
Specific activities that are prohibited include, but are not limited to:
Use or distribution of tools designed for compromising security.
Unauthorized access to or use of data, systems or networks, including any attempt to probe, scan or test the vulnerability of a system or network or to breach security or authentication measures without express authorization of the owner of the system or network.
Unauthorized monitoring of data or traffic on any network or system without express authorization of the owner of the system or network.
Deliberate attempts to overload a system and broadcast attacks.
Forging of any TCP-IP packet header or any part of the header information in an email or a newsgroup posting.
Intentionally or negligently transmitting files containing a computer virus or corrupted data.
Violations of system or network security are prohibited, and may result in criminal and civil liability.
Server Resources
Any website that uses a high amount of server resources (such as, but not limited to, CPU time, memory usage, and network resources) will be given an option of either paying extra (which depends on the resource needed) or reducing the resource used to an acceptable level. AncasterWireless.ca shall be the sole arbiter of what is considered to be a high server usage level.
Background Running Programs and Cron Jobs
AncasterWireless.ca does not allow background Daemons such as IRC bots; eggdrop; BitchX; XiRCON; and any other program that interferes with normal server operation.
IRC
AncasterWireless.ca does not allow IRC or IRC bots to be operated on our servers.
Back-ups
AncasterWireless.ca performs daily back-ups on all servers to ensure critical files are never lost. However, AncasterWireless.ca is NOT responsible for lost data, time, income, or any other resource due to faulty backups or non-existent back-ups.
Sites not conforming to our predefined Standard Operating Procedures may not be eligible for any or all back-ups.  Such sites include sites that have one part of their hosting done on our network and another portion of their hosting done on another companies network due to the way our back-up process is handled.
Client Responsibility
The client is responsible for all activity originating from the account unless proven to be a victim of outside hacking or address forgery. The client is responsible for securing their username/password. The client assumes responsibility for all material on their site that may be put on by a third party (such as the usage of Free For All links pages). Use of AncasterWireless.ca's service requires a certain level of knowledge in the use of Internet languages, protocols, and software. This level of knowledge varies depending on the anticipated use and desired content of the web space by the client. The following examples are offered: Web Publishing: requires knowledge of HTML, properly locating and linking documents, FTPing Web contents, Graphics, text, sound, image mapping, etc. FrontPage web publishing: knowledge of the FrontPage tools as well as Telnet and FTP understanding and capability. CGI-Scripts: requires a knowledge of the UNIX environment, TAR & GUNZIP commands, Perl, CShell scripts, permissions, etc. Mail: a use of mail clients to receive and send mail, etc. The client agrees that he or she has the necessary knowledge to create and maintain their web space. Client agrees that it is not the responsibility of AncasterWireless.ca to provide this knowledge or support outside matter specific to AncasterWireless.ca servers.
The client is responsible to keep AncasterWireless.ca account information up to date and accurate at all times, this includes but is not limited to:
Phone & fax number
Address
E-mail address
UCE (Unsolicited Commerce Email) – SPAM
Spamming, or the sending of mass unsolicited email, from or through an AncasterWireless.ca server or using an email address that is maintained on an AncasterWireless.ca machine is STRICTLY prohibited. It is strictly forbidden to send out unsolicited email from any other network that advertises, promotes or in any way points to a location inside AncasterWireless.ca's network. AncasterWireless.ca will be the sole arbiter as to what constitutes a violation of this provision. If you engage in any of the foregoing activities using the service of another ISP, but channeling activities through an AncasterWireless.ca server as a mail drop for responses, you are in violation. Violators will be assessed a minimum of $200.00 fine per SPAM message and will face an immediate suspension. See our SPAM Policy for more details.
Server Abuse
Any attempts to undermine or cause harm to a AncasterWireless.ca's server or customer of AncasterWireless.ca is strictly prohibited.
Any sub-networks of AncasterWireless.ca and dedicated servers must adhere to the above policies. The failure to meet or follow any of the above guidelines are grounds for account deactivation. We reserve the right to remove any account without prior notice.
Actions Taken by AncasterWireless.ca
AncasterWireless.ca in its sole discretion will determine what action will be taken in response to a violation on a case-by-case basis. Violation of this AUP could also subject Customer to criminal or civil liability. AncasterWireless.ca may block access at the router level to Customer's Equipment involved. If AncasterWireless.ca believes, in its sole discretion, that a violation of this AUP has occurred, such action may also include, but is not limited to, temporary or permanent blocking of access to Customer's Equipment, and the suspension or termination of Customer's services under this Agreement. AncasterWireless.ca may involve and will also fully cooperate with law enforcement authorities in investigating suspected lawbreakers.
AncasterWireless.ca reserves the right to modify this AUP at any time without notice.
AncasterWireless.ca customers agree to indemnify and hold harmless AncasterWireless.ca from any claims resulting from the use of our services that damages them or any other party. The AncasterWireless.ca service is provided on an as is, as available basis without warranties of any kind, either express or implied, including, but not limited to, warranties of merchantability, fitness for a particular purpose or non-infringement. AncasterWireless.ca expressly disclaims any representation or warranty that the AncasterWireless.ca service will be error-free, secure or uninterrupted. No oral advice or written information given by AncasterWireless.ca, its employees, licensors or the like, will create a warranty; nor may you rely on any such information or advice. AncasterWireless.ca and its partners and suppliers will not be liable for any cost or damage arising either directly or indirectly from any transaction or use of the service.
Modification
AncasterWireless.ca reserves the right to add, delete, or modify any provision of this Policy at any time without notice.
Refusal of Service
We reserve the right to refuse, cancel, or suspend service at our sole discretion.
Should you have any questions about this or any of our other policies please feel free to e-mail info@ancasterwireless.ca or call us toll-free at 1-844-753-0050.
Limitation of Liability
If any service performed by or provided by Ancaster Wireless results in damage to CLIENT's systems or equipment, Ancaster Wireless's liability will be limited solely to the cost to repair or replace (at Ancaster Wireless's sole and absolute discretion) the damaged systems or equipment.  No obligations or liability shall arise out of Ancaster Wireless's rendering of technical or other advice in connection with services rendered hereunder.  Ancaster Wireless strongly recommends that CLIENT backup all data before making any changes to equipment or systems, which might affect such data.  Ancaster Wireless will not be responsible for lost or damaged data in the event that data is not backed up on a regular basis by CLIENT or prior to any services to be provided by Ancaster Wireless to CLIENT.  CLIENT will indemnify and hold Ancaster Wireless harmless from all damages, expenses (including reasonable attorney's fees) and other costs or liabilities resulting from any such liability for lost or destroyed data.  Notwithstanding anything to the contrary contained in this Agreement, and except as specifically otherwise set forth above, Ancaster Wireless's total liability under this agreement, from all claims and causes of action under all theories of liability, will be limited to the payments actually received by Ancaster Wireless from client during the three (3) months immediately prior to the date of the event giving rise to any claim or liability.  In no event will either party be liable to the other party or to any third party for any special, incidental, punitive, exemplary or consequential damages, including, without limitation, lost profits, loss of use, loss of data or loss of goodwill, or the costs of procuring substitute services, arising out of or in connection with this agreement or the use or operation of the services, whether such liability arises from any claim based upon breach of contract, breach of warranty, tort (including negligence), product liability, or otherwise, and whether or not a party has been advised of the possibility of such damage.
Ancaster Wireless Policies
Version: 2
Lasted Updated: Sept. 8, 2022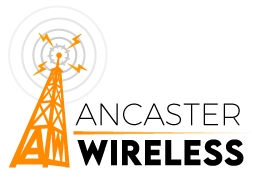 Have a question - - Contact Us
Stay Connected
Join our mailing list to learn about where we are installing next, promotions, updates, and more!